Chair Massage for Corporate Wellness & Events
A chair massage typically lasts from 10 to 30 minutes, and can be set up in a meeting room or even a small section of your office. We provide everything from a specially designed chair, made for seated massage, to music to candles upon request. There is no need to remove clothing, as massage is applied over the clothing and typically without massage cream or oils. The focus is on key areas of tension in the back, neck, scalp (if requested), shoulders, arms and hands. Recipients say it's like hitting the "reset" button and leaves them with renewed energy to get through the day, and in turn, enhance productivity!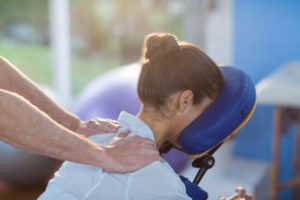 Why Chair Massage?
Show your team your appreciation for all their hard work.
Just 15 minutes of weekly or monthly chair massage will provide the following benefits:
Reduce sick time & absenteeism

Decrease workplace injuries
Rejuvenates the mind & body

Makes your staff feel valued & improves morale & productivity

Licensed & insured massage therapists come to your workplace or event with a chair specially designed to receive a massage while completely supported & comfortable.
Don't wait!
Start increasing your productivity & employee retention with this affordable, cost effective service!
Call for your quote today!
Existing, happy clients include:
Office Depot Corporate Headquarters, Whole Foods, Boca Biolistics & Women's Diagnostics Centers